Membrane filter media is a widely used filtration technology in various industries including biopharmaceutical, food and beverage, water treatment, and more. It is a thin, porous layer of material that separates solids and fluids based on size exclusion or other selective properties. In this blog post, we'll delve into the details of membrane filter media including its types, applications, and advantages over other types of filters. So whether you're new to this technology or simply looking to expand your knowledge, keep reading to learn all about membrane filter media.
2. Importance of Membrane Filter Media
Membrane filter media plays a crucial role in separating molecules of different sizes and characteristics. They are essential in removing contaminants from water, making it safe for human consumption. The importance of membrane filters lies in their ability to offer a physical separation method that is precise, effective and efficient. With their four categories, microfiltration, ultrafiltration, nanofiltration and reverse osmosis filtration; they offer a wide range of uses in the industry. Their semi-permeable barrier offers a unique function in separating contaminants based on their physical and chemical characteristics, making them ideal for different applications. It is important to note that membrane filter materials come in various forms, and their properties make them suitable for different uses. Hence, it is essential to understand the different types of membrane filters and how they work, as well as their advantages and limitations to make informed decisions when choosing the right membrane filter media for specific applications.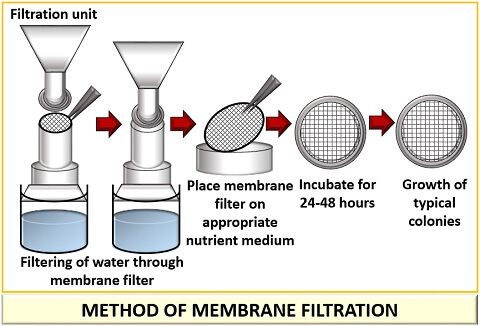 3. Working Principle of Membrane Filters
The working principle of membrane filters is based on the physical separation of molecules of different sizes and characteristics using a membrane with selective permeability. The membrane acts as a barrier that allows certain molecules to pass through while retaining others, depending on their size and chemical properties. The feed stream is divided into permeate and retentate, and the contaminants are separated from the water as they pass through the membrane. Membrane filters are constructed using a wide range of materials, each with its unique properties that determine what can pass through the membrane. Biological filters are also used for removing bacteria, microorganisms, particulates, and organic materials. By utilizing membrane filtration processes, membrane filters are used to remove bacteria, germs, particles, and natural organic materials, which lend color, flavor, and odor to the water. Membrane filters are easy to maintain, making them an ideal choice for various applications in both household and industrial settings. Overall, membrane filters are a reliable and efficient method of water treatment that has become increasingly popular in recent years due to their ability to provide high-quality water for a wide range of uses.
4. Types of Membrane Filter Materials
The different types of membrane filter materials include cellulose acetate, Teflon, polyamide, and more. Material selection plays a crucial role in the effectiveness of the filtration process, as it depends on the type of fluid or gas to be filtered, membrane chemical compatibility, and maximum operating pressure. Each material has its own unique properties, such as pore size, chemical resistance, and durability. For instance, Teflon is known for its superior chemical resistance, while polyamide is preferred for its high removal efficiency. Understanding the differences between these materials is essential in selecting the right membrane filter for specific applications. In the next section, the blog will delve into the various applications of membrane filters in different industries.
5. Applications of Membrane Filters
Membrane filters have numerous applications in various industries, especially in water treatment. They are used to remove impurities, particles, bacteria, and viruses from drinking water. In addition to water purification, membrane filters are used in the food and beverage industry to remove unwanted particles and contaminants from juices, wines, and beers. They are also used in the pharmaceutical industry to remove impurities from drugs and other medical products. Furthermore, membrane filters are widely used in the dairy industry to remove bacteria and other impurities from milk and dairy products. With the increasing demand for clean and safe drinking water, the application of membrane filters is likely to grow in the future. Membrane filters are highly efficient, cost-effective, and environmentally friendly, making them an ideal choice for various applications. With the constant development of new and more advanced membranes, the potential for the use of membrane filters is endless.
6. Comparison between Different Membrane Filter Materials
When it comes to membrane filter materials, there are a variety of options available. Cellulose acetate, cellulose nitrate (collodion), and polyamide (nylon) are just a few examples of synthetic materials that can be used in membrane filtration. These materials are typically made into either flat sheets or hollow fibers, and then formed into one of several different types of membrane modules. High tensile strength polymers like cellulose acetate, cellulose nitrate, or polysulfone are frequently used in the construction of membrane filters. While all of these materials are capable of separating molecules of different sizes and characteristics, the pore sizes and characteristics of each material may be different. As a result, some materials may be better suited to certain applications than others.Ultimately, the choice of membrane filter material will depend on the specific needs and requirements of the user.
7. Household Membrane Filters versus Industrial Membrane Filters
While household membrane filters typically use ultrafiltration or microfiltration membranes, the types of membrane filter materials used in industrial settings vary widely. Industrial applications may require nanofiltration or reverse osmosis filtration depending on the specific contaminants present in the water source. Additionally, industrial membrane filtration systems tend to be much larger and more complex than their household counterparts. However, both types of membrane filters offer important benefits in terms of water purification. While household filters are designed for consumer use, industrial filters are often used in settings such as wastewater treatment plants or food processing facilities. Ultimately, the choice of which type of membrane filter is needed depends on the specific water purification needs of the user.
8. Advantages and Limitations of Membrane Filter Media
Membrane filtration has several advantages over traditional filtration methods, including its high flexibility and speed. However, the high cost of the membrane and slow filtration speed can be drawbacks. Membrane filters are also highly effective in removing bacteria, microorganisms, particulates, and natural organic material. Pore size and durability play a crucial role in selecting the appropriate material for membrane filters. The more consistent quality of water obtained through membrane filtration is another significant advantage. However, maintenance is crucial in realizing the full potential of these filters. In the future, the use of membrane filters is likely to increase across various industries due to their effectiveness and efficiency in removing contaminants from liquids and gases. Overall, membrane filtration holds huge potential and is a promising technology for providing clean and safe drinking water, as well as for various industrial applications.
9. Maintenance of Membrane Filters
Proper maintenance is crucial to ensure the longevity and efficiency of membrane filters. Regular cleaning and replacement of the filters are necessary to prevent the buildup of contaminants and impurities. The frequency of maintenance varies depending on the type of filter and the amount of use. In household membrane filters, the maintenance may only require periodic cleaning while industrial filters may require more frequent replacement. It is also essential to follow the manufacturer's guidelines for cleaning and servicing the filters to avoid damaging them. Despite the necessary maintenance requirements, membrane filters remain a popular choice in water treatment due to their effectiveness and reliability.
10. Future of Membrane Filter Media in the Industry
Looking forward, the future of membrane filter media in the industry looks incredibly promising. As technology continues to advance and demand for clean water and air increases, membrane filtration will play an increasingly important role in meeting these needs. Research and development in the field of membrane filter media is ongoing, with a focus on improving the efficiency and durability of these filters. In addition, new applications for membrane filtration are emerging in fields such as pharmaceuticals, food and beverage production, and biotechnology. As the demand for these products grows, so will the need for high-quality, reliable membrane filters. It is clear that membrane filter media will continue to be a key technology in the industry for many years to come, providing essential filtration solutions for a wide range of applications.