Blower is a term that is commonly used in the English language, especially when it comes to machinery and equipment. It refers to a device that is designed to move air or other gases from one place to another. The blower's function can be either for cooling an object, providing ventilation, or simply to circulate air. In this blog, we'll take a closer look at what a blower is and how it operates in various contexts. We'll explore different types of blowers, their uses, advantages and differences. Whether you're an engineer working on complex systems or simply curious about the technology around us, this blog will provide you with valuable insights into the world of blowers.
1. Definition of Blower
Hey there readers! In this blog section, I wanted to give you a clearer understanding of what a blower is. As previously mentioned, a blower is a device that produces a current of air or gas by imparting energy to increase its pressure and speed. They are often used in industries for supplying air at a moderate pressure, forcing drafts and supercharging engines. Blowers are also known as centrifugal fans, and they differ from fans in several ways, as we will delve into in a later section. Understanding the definition of a blower sets the foundation for comprehending its workings, types, uses, and industrial components, which we will explore in the upcoming sections. Blowers play a vital role in many industries and have a bright future in technological advancements. So, let's move on to our next section to know more!
2. How Does a Blower Work?
Now that we know what a blower is and its definition, let's discuss how it works. Blowers work by increasing the pressure of either air or gas through the centrifugal movement of a rotor. The blade of the blower rotates around an axis to create a vortex motion that forms a difference in pressure, causing the air to circulate inside the blower. The higher the motor power, the more efficient the blower will be at circulating air or gas. The motor is responsible for the fan that moves the heated or cooled air through the HVAC system and out of the car's dashboard vents. While blower fans are often used for drying out carpets or fresh paint, their main function is to provide a constant flow of air to keep people safe and healthy. In industrial settings, a blower can be used to move gases, liquids, or particulate matter. Knowing how a blower works is essential before considering its uses and importance across different industries.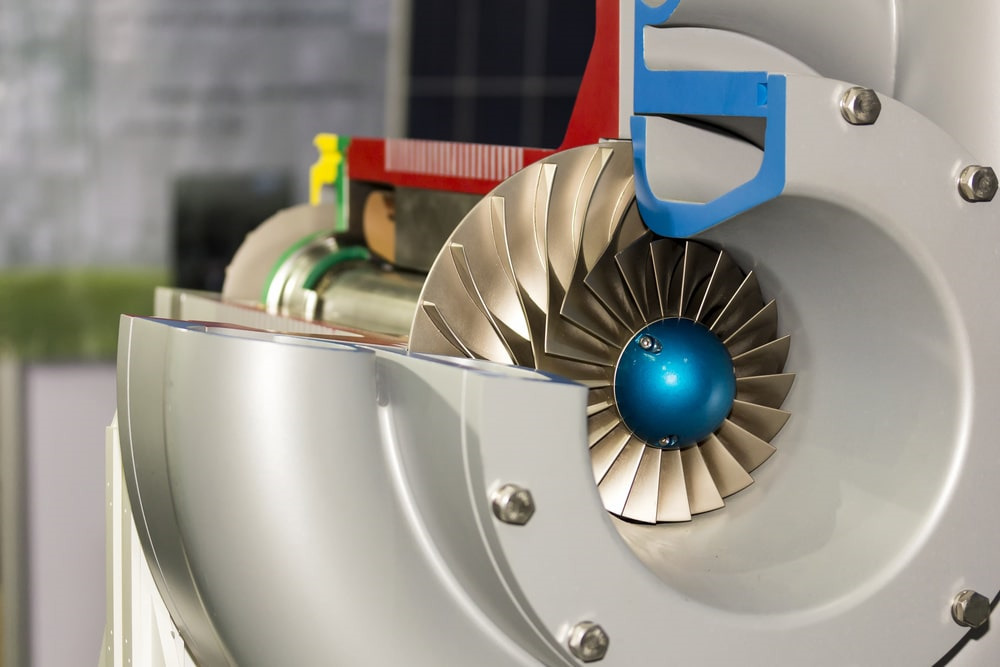 3. Types of Blowers
So now that we have looked at what blowers are and how they work, let's dive deeper into the different types of blowers. As we have discussed earlier, there are two main categories of blowers- positive displacement and impeller-based. Impeller-based blowers, as the name suggests, use fins that radiate from a central hub to create airflow. On the other hand, positive displacement blowers include Roots blowers, twin-screw blowers, and centrifugal blowers. Roots blowers have two meshing lobes which pull in air, while twin-screw blowers use two helical screws to push air through. Centrifugal blowers, the most commonly used in industrial ventilation systems, create airflow by using centrifugal force to move air radially outwards. Understanding the difference between the different types of blowers is essential when selecting the right blower for your specific application. In the next section, we will explore the uses and applications of industrial blowers.
4. Uses of Blowers
Blowers are highly versatile equipment extensively used in various industrial applications. As previously discussed, their main purpose is to increase the velocity of air or gas, which makes them ideal for exhausting, aspirating, cooling, ventilating, and conveying. Additionally, blowers are widely used in the pharmaceutical, paint manufacturing, and food and beverage industries, among others. They play an essential role in preventing dust explosions, protecting electrical equipment, and creating high-speed air streams. Moreover, blowers are instrumental in creating a certain amount of pressure to circulate and release new air, making them suitable for ventilation, cooling, and exhausting. With the rise of blower technology, manufacturers can efficiently and effectively enhance their industrial processes while ensuring cost and energy efficiency.
5. Industrial Blower Components
When it comes to Industrial Blowers, there are several key components that work together to provide high volumes of air flow. The seven types of wheels in a blower housing draw in air while the gear system in centrifugal blowers rotates and disperses the air. Axial blowers work differently, with blades that rotate around a central axis to produce a straighter airflow. Positive displacement blowers are another option, with rotary lobe or helical screw designs. All of these components come together to improve airflow and eliminate particulate matter pollutants, making them essential for industrial uses such as ventilation and drying. As an application engineer, I design each component of industrial blowers to match specific needs and applications, ensuring optimal performance and efficiency.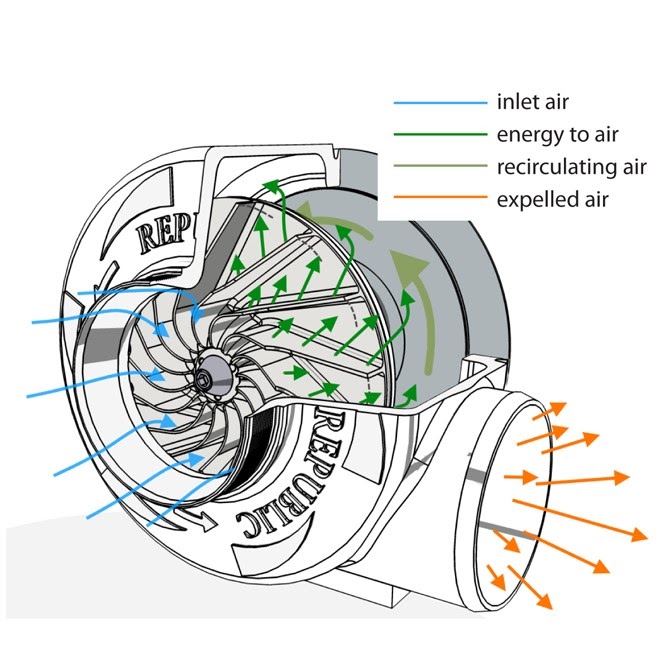 6. Differences between Blower and Fan
As I mentioned earlier, the terms blower and fan are often used interchangeably, but they have some important differences. For one thing, blowers are mechanically driven devices that typically have a higher pressure rise than fans, which are electrical devices that move air. That means blowers can force air in a specific direction, whereas fans are more useful for circulating air throughout a space. Another key difference is that fans typically operate in the axial direction of their rotor, while blowers use centrifugal force to blow air out in a focused, powerful flow. When it comes to selecting a fan or blower, it's important to consider factors like volume flow rate, pressure, material handling needs, space limitations, and efficiency. Ultimately, the choice between a fan and a blower will depend on the specific needs of your application.
7. Advantages of Using a Blower
As I have previously mentioned, blowers are very efficient, and their operating cost is just a fraction of what you would spend using compressed air for the same volume of air. One of the significant advantages of using a high-quality blower is the machine's reliability and durability. With proper care, you won't worry about changing parts frequently, saving you time and money. Additionally, blowers are highly efficient in moving air, making them ideal for cooling or heating a space quickly. This feature boosts employee comfort and productivity, especially in industrial settings that require high air velocity and pressure drops. Using a blower also saves time, as it's faster and more convenient to clean up fallen leaves using a blower or vacuum than raking them manually. Finally, it's worth mentioning that blowers play a crucial role in maintaining comfortable indoor temperatures by circulating air throughout the house. All these advantages make a blower a valuable investment for industrial and household applications alike.
8. Blower Applications
When it comes to industrial applications, blowers are a vital component in a multitude of operations. Some of the most common applications for blowers include dust control, combustion air supply, and cooling/drying systems. Additionally, these fans are ideal for areas where a compressor is readily available, requiring 30cfm at 40psi. There are a variety of blower wheels or centrifugal impellers used in these fans, with 8 basic types available for various low and high-pressure applications. Furthermore, centrifugal blowers are designed for reliable and quiet operation in a variety of environments, making them ideal for use in a range of industries. One promising area of future development in blower technology is increased efficiency and reduced energy consumption, making them even more environmentally friendly and cost-effective.
9. Importance of Blowers
As we've discussed in previous sections, blowers play a critical role in various industrial processes by providing ventilation, removing contaminants and transporting particulate matter. But the importance of blowers goes beyond that. For instance, optimizing blowers in wastewater treatment plants can significantly reduce energy costs since aeration consumes a major chunk of energy. Furthermore, the programmable controls in modern blowers make it easier to manage and automate the ventilation process. As a result, these devices improve efficiency, reduce labor costs and minimize errors. Additionally, blowers are used in various industries ranging from refrigeration to plastic extrusion systems, fume hoods, and more. Therefore, it's safe to say that blowers are a critical part of modern industrial processes and continue to play a vital role in ensuring safe, efficient and cost-effective operations.
10. Future of Blower Technology
When it comes to the future of blower technology, it's clear that efficiency and energy-saving will continue to be a top priority. With advancements such as blower technology in containers, we can expect to see even leaner and more flexible process air supply solutions. Additionally, the continued development of innovative technologies like Atlas Copco's ZS screw blower and Robuschi's Total Blower Capability concept will contribute to improved efficiency and reduced energy costs. As a textile manufacturer, I know firsthand the importance of selecting energy-efficient blower technology to save on electricity costs. With reliability, efficiency, maintenance, and capital cost as top priorities in selecting a blower, I look forward to the continued advancements and improvements in blower technology to meet these key factors and better serve our industrial needs.