Membrane treatment is an essential process in numerous industries, including food and beverage, pharmaceuticals, and water treatment. This method involves the use of semi-permeable membranes to separate different compounds and ions from a liquid or gas mixture. The membrane acts like a filter, allowing certain substances to pass through while blocking others. However, there are different processes involved in membrane treatment that cater to various applications. In this blog post, we'll explore the different methods of membrane treatment and their applications in various industries.
1. Introduction to Membrane Treatment Processes
Membrane treatment processes have become increasingly important in many industries, including water and wastewater treatment. As outlined in previous sections, there are several different types of membrane processes, including reverse osmosis, electrodialysis, and microfiltration. The basic principle of membrane separation is based on adsorption, sieving, and electrostatic phenomenon, and relies on hydraulic pressure to achieve separation. Membrane separation has proven to be an effective way to separate biological macromolecules, colloids, ions, solvents, and gases. In the following sections, we will explore the different membrane processes, their applications in various industries, and the important considerations when designing and operating a membrane treatment system.
2. Overview of Common Membrane Processes
In membrane treatment processes, the selection of an appropriate membrane process is dependent on the nature and size of the solutes present in the feed solution. Common membrane processes include microfiltration, ultrafiltration, nanofiltration, and reverse osmosis. Ultrafiltration is widely used in the food industry for cheese processing, protein concentration, and clarification of fruit juice. Reverse osmosis, on the other hand, is commonly used in desalination, heavy metals removal, and production of ultrapure water. Electrodialysis and electrodialysis reversal are used in the production of salt, acid, and base solutions. The selection of a membrane process depends on several factors, including the characteristics of the target product, the economics of the process, and the desired throughput. In the following sections, we will explore the various applications of membrane separation in industrial and wastewater treatment, the role of membrane in potable reuse, as well as pore and molecule size in membrane separation, pressure and vacuum in membrane filtration processes, biomass-based membrane fabrication, spiral modules in membrane treatment and the importance of membrane processes in water treatment and wastewater treatment.
3. Membrane Separation in Industrial Applications
Membrane separation processes have found wide application across various industries due to their efficiency, versatility and low energy consumption. In the industrial sector, membrane processes are used for gas separation, solvent recovery, purification of chemicals, and bioprocessing. One of the most common industrial applications of membrane separation is in the production of ultra-pure water for semiconductor fabrication. The pharmaceutical industry also relies on membrane processes for the purification of drug compounds. In addition, membrane separation is used in the food and beverage industry for the removal of impurities, clarification, and concentration of processed products. Overall, membrane separation has proved to be an effective and reliable approach for numerous industrial applications providing an alternative and sustainable separation technique compared to conventional methods.
4. Role of Membranes in Potable Reuse
The role of membranes in producing high-quality recycled water for potable reuse cannot be overstated. Membrane technology, particularly reverse osmosis, is a key player in treating wastewater to produce water safe for human consumption. Potable reuse treatment plants commonly use polymeric membranes for microfiltration or ultrafiltration in conjunction with reverse osmosis and the process has been proven to be effective. Moreover, dual reticulation systems have been built in urban areas, combining centralised treatment with dual membrane processes for dual reticulation purposes. With the advancement of membrane technology, the quality of recycled water produced is continuously improving, making potable reuse a viable solution to address the global water scarcity challenge.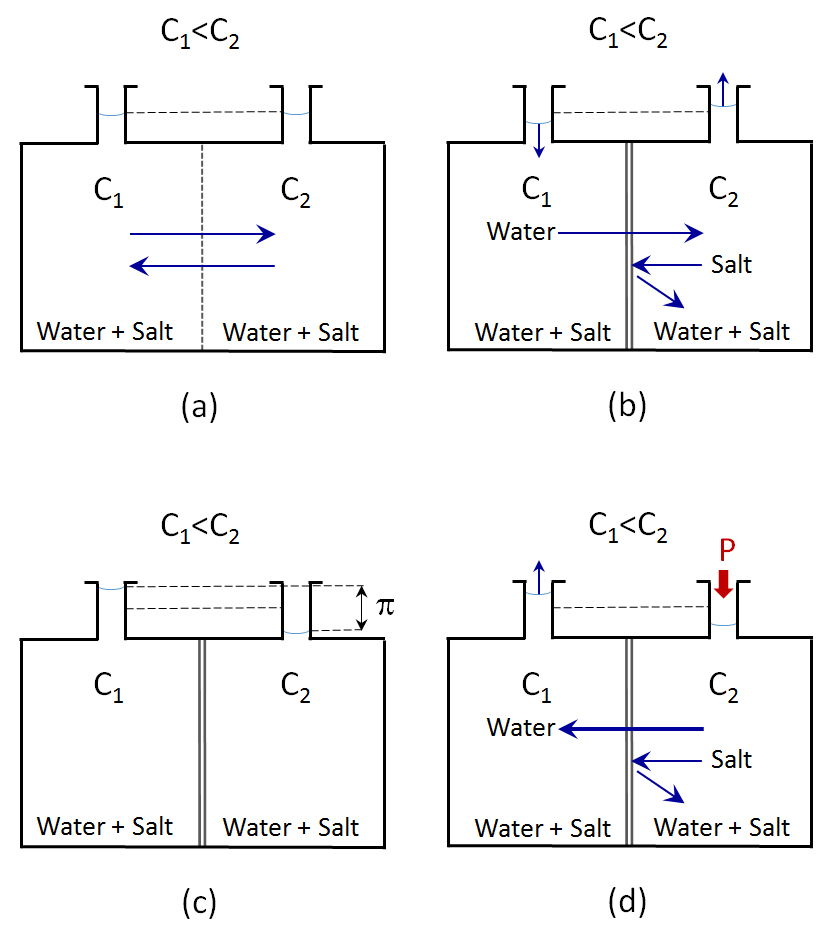 5. Reverse Osmosis and Electrodialysis for Wastewater Treatment
In the previous sections, an overview of membrane processes was presented and their applications in industrial and potable reuse settings were discussed. In this section, the focus is on the two most important membrane technologies for wastewater treatment: reverse osmosis (RO) and electrodialysis (ED). RO uses a semi-permeable membrane to separate ions, unwanted molecules and larger particles from the wastewater, while ED works by using electricity and ion-permeable membranes to separate dissolved ions. Both processes have proven effective in the removal of pollutants from cold-rolling wastewater in the steel industry. These sustainable methods offer a promising solution for water recycling and conservation, ultimately contributing to a healthier environment. Membrane treatment processes are essential for wastewater treatment and the effective reuse of water.
6. Pore and Molecule Size in Membrane Separation
In membrane separation processes, the size of the pores and molecules play a crucial role in determining the effectiveness of the process. Membranes can be divided into microfiltration, nanofiltration, and ultrafiltration based on their pore size, allowing for selective separation of different-sized molecules. The driving force behind the membrane separation process is the difference in solubility and diffusivity of the compounds in the feed solution. In addition to these, pressure and vacuum also affect the filtration process. Membrane separation has found numerous applications in industrial processes, wastewater treatment and potable reuse, highlighting its importance in water treatment processes. Membrane fabrication technology, which now includes biomass-based membranes and spiral modules, has also undergone significant growth and development. All these advancements continue to expand the possibilities of using membrane filtration technology in various fields.
7. Pressure and Vacuum in Membrane Filtration Processes
Pressure-driven and vacuum-driven membrane filtration are critical components of membrane treatment processes. Particulate matter is removed from solutions during membrane filtration, with hydraulic pressure being the driving force behind separation. The four main types of pressure-driven membrane filtration processes include microfiltration, ultrafiltration, nanofiltration, and reverse osmosis. The particles being moved must be soft so as not to scratch the membrane's surface. These processes are critical in treating wastewater to remove pollutants and impurities, improving overall water quality. Additionally, membrane filtration is widely used in chemical and biotechnology industries to separate and purify various compounds. Therefore, developing techniques to improve these processes' efficiency and effectiveness is essential for improving wastewater treatment and potable reuse.
8. Biomass-Based Membrane Fabrication
Biomass-based membrane fabrication is a complex and promising process used in various water and wastewater treatment applications. These types of membranes are made by using biopolymers, which are extracted from natural materials like cellulose or chitin. The development of these membranes is crucial because of their environmentally friendly and renewable nature. Additionally, they have demonstrated enhanced performance in treating wastewater compared to synthetic membranes. Understanding the manufacturing process and characteristics of these membranes is essential to its successful application in various industries. Biomass-based membranes can also be incorporated into spiral module designs, increasing their efficiency and durability. In summary, the development of biomass-based membranes is crucial for sustainability in water and wastewater treatment.
9. Spiral Modules in Membrane Treatment
Spiral Modules in Membrane Treatment are widely used in industrial applications for their efficient and cost-effective nature. These modules offer optimal balance between operation and packing, making them compatible with various types of membranes, such as nanofiltration and reverse osmosis. In fact, the spiral module is the most popular module in industry for nanofiltration or reverse osmosis membranes. These modules are designed to obtain high-quality treated water, as they can withstand high pressure and have a large surface area for efficient separation. Their compact design also makes them easy to install and maintain. Overall, Spiral Modules in Membrane Treatment are an essential component in membrane processes and play a crucial role in various water treatment and wastewater treatment applications.
10. Importance of Membrane Processes in Water Treatment and Wastewater Treatment
Membrane processes are revolutionizing water treatment and wastewater treatment. These processes are compact, low energy consuming, and require little to no chemical usage, making them highly efficient and cost-effective. With the advent of membranes, water treatment facilities can now purify surface water, groundwater, and wastewater to produce highly purified water. Moreover, these processes provide an alternative source of water for potable or non-potable reuse. Municipal wastewater treatment plants are increasingly utilizing membrane technologies for water reuse. Membrane technology has been identified as the primary technology for isolating pollutants from contaminated sources in water and wastewater treatment. In summary, membrane processes are critical in water reuse and wastewater treatment, providing a sustainable approach to water treatment.