When it comes to water filtration, reverse osmosis (RO) membranes have proven to be an effective solution. However, choosing the right RO membrane dimensions can significantly impact the system's efficiency and, ultimately, the quality of filtered water. In this blog post, we will explore the different dimensions of RO membranes in a comprehensive guide suitable for everyone, as we delve into the vital role that membrane size plays in determining product performance. Whether you are a homeowner or a professional in the water filtration industry, this article will provide you with valuable insights on how to choose the appropriate RO membrane dimensions for your application.
1. Standard size of RO reverse osmosis membrane housing
One of the key considerations in selecting an RO reverse osmosis membrane housing is its standard size. Familiarizing oneself with standard sizes can simplify the selection process and ensure compatibility with the system. A common standard size for residential RO systems is the 12-inch housing with 1/8″ female threaded connections. This size is suitable for most standard residential RO membranes with dimensions ranging from 1.5-1.8 inches in diameter and 10-12 inches in length. Other standard sizes are also available, like the 2.5-inch and 4-inch diameter housings, which can accommodate various reverse osmosis membrane dimensions. Therefore, knowing the right standard size for the RO membrane housing can save one time and effort in identifying the correct fit, which is essential for optimal performance and water treatment.
2. Specifications of M-T2540A RO Membrane
The M-T2540A RO membrane is a widely used membrane in commercial reverse osmosis systems. It has a membrane size of 2.5″ x 40″ and a nominal flow rate of 1,000 GPD. This membrane is known for its high performance capabilities and is suitable for a wide range of commercial applications. It is made by Applied Membranes Inc., a trusted manufacturer in the industry.
This membrane is just one example of the many RO membranes available, which come in various sizes and specifications to suit different needs. It is important to consider not only the size and flow rate of the membrane, but also other factors such as the type of filtration, membrane material, and maximum water temperature. It is also advisable to use a universal filter to extend the lifespan of the RO membrane.
In conclusion, the M-T2540A RO membrane offers many advantages for commercial reverse osmosis systems, including high performance and a wide range of applications. However, it is important to consider all factors when choosing an RO membrane, in order to ensure optimal performance and longevity of the system.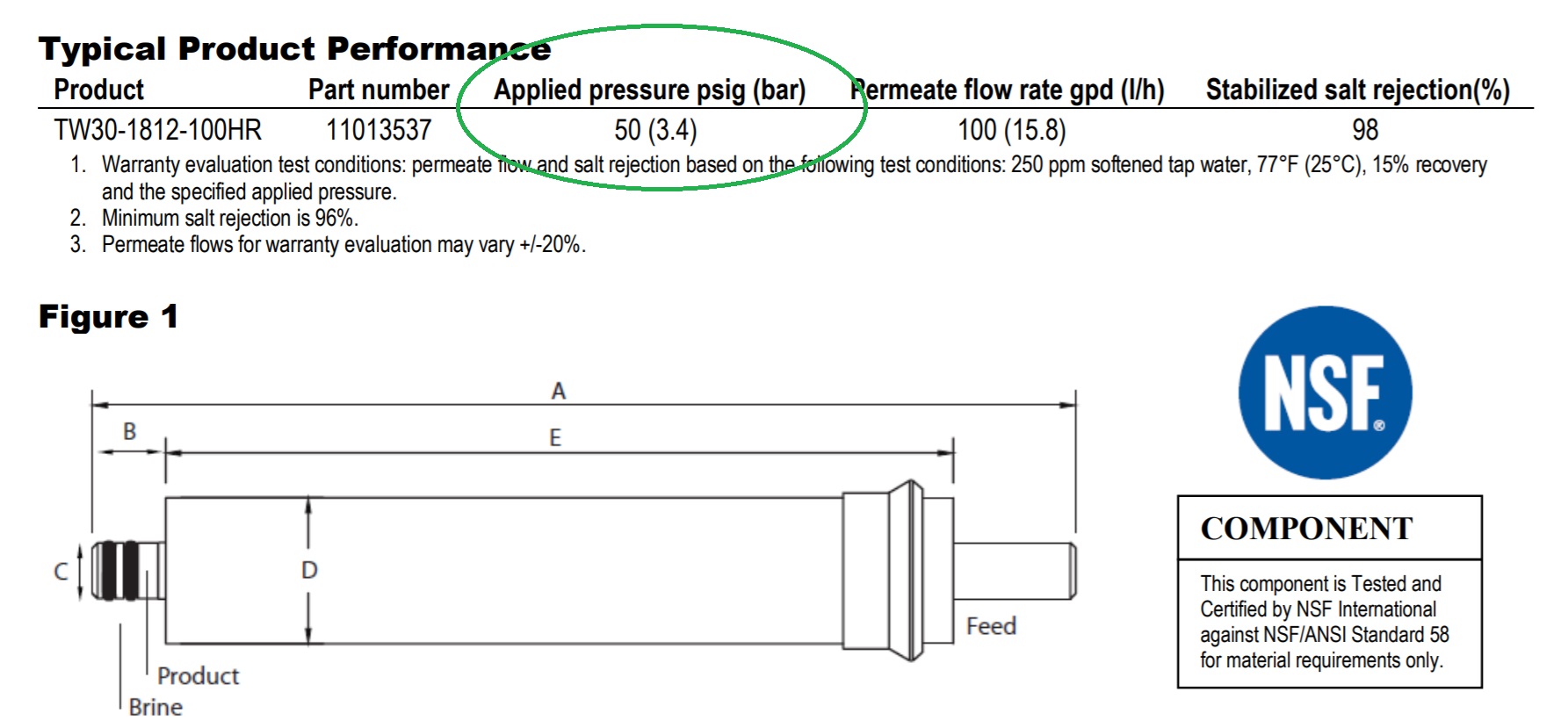 3. Flow Rate for RO Membrane
The flow rate for an RO membrane is an important factor to consider when selecting the correct size and performance specifications for an RO system. The feed flow rate, permeate flow rate, and overall recovery rate all play a role in determining the necessary size of the RO membrane. The AMI 3″x12″ high-flow tankless RO membrane, for example, has a flow rate of 300 gallons per day (1,138 liters per day). The desired permeate quality and feed water salinity also factor into the selection process. Flow restrictors or capillaries are required for all RO systems and the size of the restrictor needed depends upon the size of the membrane being used. Additionally, the normalized permeate flow can be tracked to monitor the relative ability for water to permeate the RO membrane. Overall, understanding the flow rate for an RO membrane is crucial to ensuring efficient and effective water treatment.
4. RO Membranes organized by size
When it comes to finding the right reverse osmosis (RO) membrane for your system, size matters. A variety of standard sizes are available, ranging from the compact M-T2540A to larger commercial versions like the Dow Filmtec 900 GPD TW30-4021. With a range of active areas, flow rates, and pore sizes to choose from, it's important to consider your specific needs when selecting a membrane. Thankfully, membranes are organized by size to make this process easier. For example, AMI Commercial Reverse Osmosis membranes come in standard sizes up to 8 inches in diameter. Additionally, universal filters are available that work with a variety of RO membrane sizes. When searching for an RO membrane, be sure to consider the active area, flow rate, material, and temperature specifications to ensure the best fit for your system.
5. Sizes of RO Membranes
In the world of reverse osmosis (RO) membranes, size matters. RO membranes come in different sizes, expressed in both diameter and length. The most commonly used standard size is the 2.5-inch diameter, available in lengths of 14, 21, 40, 80, and 120 inches. This size can accommodate a variety of flow rates up to 405 gallons per day (GPD). However, RO membranes are also available in other sizes, ranging from 50 GPD to 200 GPD, and up to 16 inches in diameter for commercial and industrial applications. The size of the RO membrane should match the size of the RO housing unit to ensure a proper fit. Additionally, it is essential to match the flow rate requirement of the application to the appropriate membrane size. Choosing the right membrane size ensures the right balance between performance, efficiency, and cost-effectiveness.
6. Active Area of RO Membranes
The active area of RO membranes is crucial when it comes to reliable system design and performance. As previously mentioned, the actual active membrane area inside the glue lines differs from the nominal membrane area often stated by some manufacturers. The FilmTec BW30 PRO-4040, for example, has a nominal active surface area of 85 ft2 (7.9 m2). It's worth noting that the active area of RO membranes varies based on the model and can range from 400 ft2 (37.2 m2) to 20 ft2 (1.9 m2). When selecting an RO membrane, it's important to keep in mind the active area and size of the membrane to ensure it meets the specific requirements of the application. Additionally, the use of a universal filter for RO membranes can extend the life of the membrane and improve its performance. Understanding the active area and other specifications of RO membranes can ensure optimal efficiency and effectiveness of RO systems.
7. Universal Filter for RO Membranes
When it comes to choosing the right reverse osmosis (RO) membrane for a system, having a universal filter is essential. This type of filter is designed to fit a range of RO membrane housings, making it a versatile option for anyone needing to replace their filter. It is important to note that these universal filters are often sold in packs, so consumers can easily stock up on replacements. A universal filter is an economical and efficient choice, helping to keep the water clean and pure in any RO system. By pairing a universal filter with the appropriate RO membrane size and materials, individuals can ensure they have the best filtration system for their needs.
8. Membrane type and material for RO systems
When it comes to choosing the type and material of RO membranes for a water treatment system, it's important to consider several factors. The most commonly used membrane type for RO systems is the thin-film composite (TFC) polyamide membrane. However, other membrane types such as cellulose acetate, polyamide, and polysulfone are also available. The membrane material determines the level of ro effectiveness, durability, and the types of contaminants it can effectively remove. With advancements in technology and material science, newer, more effective membranes are constantly being developed. It's essential to select the membrane material and type that is best suited for the specific application, based on factors such as water quality, temperature, and flow rate. By selecting the right membrane, users can ensure a long-lasting, efficient water treatment system that meets their needs.
9. Maximum Water Temperature for RO Membranes
When it comes to RO membrane systems, the maximum water temperature is a crucial factor to keep in mind. Different membrane manufacturers set their own temperature guidelines, with the maximum temperature ranging from 35°C to 45°C. Thin Film Membrane Elements are not designed to support temperatures higher than 45°C. However, the Maximum Sanitization Temperature is much higher, up to 90°C depending on the type of membrane used. It's important to note that exceeding the recommended maximum temperature can greatly affect the performance and lifespan of RO membranes. The performance of the membrane is also impacted by the water temperature, which is why it is crucial to pay attention to water temperature when selecting and operating RO membrane systems. With proper care and monitoring, RO membranes can function effectively and provide high-quality purified water for a long time.
10. Pore size variation in RO membrane components
The pore size of RO membrane components plays a crucial role in ensuring optimal filtration of impurities from water. As mentioned earlier in the blog, RO membranes have the smallest pore size of approximately 0.0005 microns. However, there can be variations in the pore size depending on factors like membrane type and material. Some universal filters for RO membranes may have slightly larger pore sizes of less than 10 µm. It is important to note that the pore size variation in RO membrane components can greatly impact the efficiency of the RO system, affecting both the water flow rate and the quality of the filtered water. Therefore, it is crucial for individuals and organizations involved in water treatment to consider the pore size variation in RO membrane components when selecting or installing a reverse osmosis system.