Learn How Membrane Filters Work & Improve Liquid Quality
As scientists and researchers strive to develop better filtration systems, the membrane filter has emerged as a popular and effective method for separating materials based on their molecular size. A vital part of many industries, from water treatment to biopharmaceuticals, membrane filters rely on specialized materials and structures to selectively allow small molecules through while blocking larger ones. In this blog, we'll explore the science behind how membrane filters work, their various applications, and what makes them such an important tool in modern filtration technology.
1. Introduction to Membrane Filters
The blog post on how membrane filters work starts with an introduction to membrane filters. Membrane filters are barrier filters that are used to remove contaminants from water or air by separating particles or molecules from a liquid or gas stream using a semi-permeable membrane. The post delves into the science behind membrane filtration and its process, discussing the types of contaminants removed by membrane filters and the selectivity of membrane filters in preventing particles above a certain size from passing through. The advantages of using membrane filtration are also highlighted, as is the process of microorganism removal using biological filters. The blog post further discusses the principle of membrane separation and how reverse osmosis is used with membrane filters. The post also includes sections on how to choose a membrane filter and the various uses of membrane filters. Overall, the blog post aims to provide a comprehensive overview of how membrane filters work and their applications in various industries.
2. The Science Behind Membrane Filtration
Membrane filtration works based on the science of selectively-permeable membranes. As previously mentioned, the membrane is designed to have pores that are smaller than the diameter of undesired substances. When a liquid is passed through the membrane, molecules that are too large are blocked while smaller molecules are allowed to pass through. This process is achieved through a combination of physical obstruction and diffusion. The size and structure of the membrane determines the selectivity of the filter, allowing it to specifically remove targeted contaminants. This makes membrane filtration a highly effective method for removing various types of contaminants from water, including dissolved salts, heavy metals, and pathogens. The science behind membrane filtration has made it a popular choice for water treatment systems in various industries.
3. Membrane Filtration Process
Once the membrane filter is in place, the filtration process can begin. First, the contaminated water is pumped or fed through the membrane. As the water flows through the membrane, particles and contaminants are trapped and separated from the rest of the water. Generally, the finer the pores in the membrane, the smaller the particles that can be removed. The process may also use a combination of pressure and vacuum to enhance the separation process. Once the clean water has passed through the membrane, it can be collected for use. The separated contaminants are either discarded or treated further depending on the nature of the substance. Membrane filtration is highly effective at removing both dissolved and particulate inorganic substances, making it a versatile option for water treatment. Additionally, the use of membranes allows for selective targeting of specific substances depending on their molecular size and weight. This makes membrane filtration an excellent option for removing a wide variety of contaminants from water.
4. Types of Contaminants Removed by Membrane Filters
Membrane filters are capable of removing a wide range of contaminants from water. As mentioned earlier, even the loosest membrane can remove Giardia cysts and Cryptosporidium oocysts. But these filters can also remove soluble and insoluble organic compounds, such as pesticides and herbicides, as well as heavy metals like lead and mercury. Additionally, membrane filters can remove suspended solids, colloids, and particles from water. Beyond that, there are specific types of membrane filters that can remove different contaminants from water. For example, nanofiltration is effective at removing divalent ions like calcium, while ultrafiltration is useful for separating and concentrating proteins. By choosing the right type of membrane filter, it's possible to effectively remove a wide range of contaminants from water.
5. Selectivity of Membrane Filters
One of the major advantages of using membrane filters is their selectivity in separating molecules of different sizes and characteristics. Membrane filters act as selective partitions that allow smaller molecules to pass through while retaining larger particles. This enables the removal of contaminants such as bacteria, viruses, and other microorganisms from liquids and gases. The selectivity of membrane filters depends on various factors, such as the pore size and structure of the membrane material, the molecular weight and charge of the target molecules, and operating conditions such as pressure and temperature. By adjusting these parameters, the selectivity of membrane filters can be optimized for specific applications. In addition to their high selectivity, membrane filters offer other advantages such as high efficiency, low energy consumption, and easy scalability. As such, membrane filtration is widely used in industries including food and beverage, pharmaceuticals, water treatment, and biotechnology.
6. Advantages of Using Membrane Filtration
Membrane filtration has a multitude of advantages, making it an ideal choice for a variety of applications. The process provides high efficiency, good selectivity, and low energy consumption, lowering overall production costs while still maintaining the structural integrity of PAs at room temperature. One of the biggest advantages of membrane filtration is its high flexibility, which allows it to remove a wide range of contaminants, from large particulate material to dissolved compounds. Additionally, membrane filters are fast, have a low space requirement, and can be reused after saturation. While there are some disadvantages to the process, such as the need for regular maintenance and the cost of replacing membranes, overall the benefits of membrane filtration make it an excellent choice for many filtration needs.
7. Biological Filters and their Usage
Biological filters are essential in removing bacteria, microorganisms, particulates, and organic materials from water through biological processes. These filters use natural microorganisms to break down organic matter and contaminants, thus purifying water. Biological filters are commonly used in wastewater treatment systems, fish farms, and aquariums. They help to create a balanced aquatic environment and can be an excellent means of controlling the growth of unwanted bacteria. Biological filters are often composed of porous ceramic media or synthetic materials, providing an ideal surface area for bacteria colonies to thrive on. Overall, biological filters are a highly effective means of water purification and should be considered along with other membrane filter options.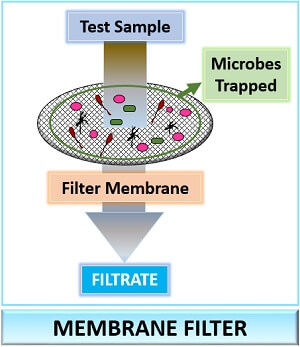 8. Procedure of Microorganism Removal
In membrane filtration, the removal of microorganisms is a crucial step to ensure the purity of the filtered fluid. The procedure involves special porous membranes that are designed to trap microorganisms as the fluid passes through them. The filters used in this process are sterilized and carefully removed to avoid contaminating the filtering environment. The driving force behind membrane filtration can be pressure, concentration, or electrical potential gradients. Membrane processes are increasingly used for the removal of bacteria and other microorganisms, particulates, and natural organic materials. Membrane filtration reduces the formation of biofouling by removing available nutrients for microorganisms in the fluid. Various methods such as Method 1603 are used to detect specific microorganisms like E.coli. The invention of biological filters has led to more effective removal of microorganisms from fluids. Overall, membrane filtration procedure is crucial in the purification of water and other fluids to meet hygiene standards.

9. Reverse Osmosis and Membrane Filters
Reverse osmosis (RO) is a type of membrane filtration that plays a vital role in wastewater treatment by effectively removing salts and other pollutants. As mentioned earlier, membrane filtration is a process that separates contaminants from water using a membrane as a barrier. RO takes this process one step further by applying pressure to force water through a semi-permeable membrane, which removes larger molecules and ions from the water. This makes RO an excellent choice for removing dissolved salts and minerals from water that carbon filters cannot. RO membranes are essential for a variety of industrial and domestic applications, and their cleaning is necessary to maintain their effectiveness. Membrane filtration, including RO, is a straightforward and effective way to remove contaminants from water, making it safer and more purified for consumption.
10. The Principle of Membrane Separation
The principle of membrane separation plays a crucial role in the success of membrane filtration. The separation occurs when the liquid or gas mixture passes through the pores of the membrane. This process utilizes the differences in size, weight, charge, and solubility of the particles or molecules to separate them from one another. The membrane acts as a physical barrier, blocking contaminants, and allowing only clean elements to pass through. This principle of separation is utilized in reverse osmosis and other membrane filtration processes, making them highly efficient in removing pollutants from water and other substances. With advancements in technology, there is a wider range of membrane filters available in the market, catering to specific needs and requirements. In this blog, we have explored the science and process behind membrane filtration, the types of contaminants removed, selectivity, advantages, usage of biological filters, microorganism removal procedures, and how to choose the right membrane filter for your needs. By understanding the principle of membrane separation and its various applications, one can make an informed decision while selecting the appropriate membrane filtration process.
FAQ :
How Does Membrane Filtration Work
Membrane filtration is a physical separation method that uses a semi-permeable membrane to separate substances based on their size and characteristics. In the membrane filtration process, liquid is passed through a microporous membrane that serves as a barrier to trap particles and impurities. Depending on the nature of the substance, the degree of filtration may vary. Membrane filters can remove both dissolved and particulate inorganic substances, but they have a defined pore size and structure that more stringently prevent particles above a certain size. The membrane works as a very specific filter, separating chemicals when they are subjected to a driving force. Membrane filtration has numerous advantages over other filtration methods and is widely used in various industries, such as water treatment, pharmaceuticals, and biotechnology.
How To Choose Membrane FIlter
When it comes to choosing the right membrane filter, there are a few factors to consider. First and foremost, it's important to think about the chemical compatibility of the filter. Will it be resistant to the acids, alkalis, and organic solvents present in your process fluid? Additionally, you'll want to consider the nature of the particles you're trying to remove, particularly dissolved solids. Pore size and durability are also important factors for selecting a material. There are many different materials that membrane filters can be made from, including glass, natural and synthetic polymers. Once you've selected a membrane configuration that suits your needs, it's critical to ensure that the combination is available in a form that can withstand the working environment. With these considerations in mind, you can rest assured that you've chosen the right membrane filter for your specific needs.
What is The Use of Membrane Filter
Membrane filters are versatile tools used in various industries and applications. In water treatment, these filters remove contaminants and impurities from drinking water, making it safe for consumption. In the food and beverage industry, membrane filters remove bacteria and unwanted particles in products such as wine and cheese. The pharmaceutical industry utilizes membrane filters in drug production, ensuring the products are sterile and free from impurities. In laboratories, membrane filters separate and purify chemicals, making them essential in research and testing. Membrane filters play a crucial role in ensuring the safety and quality of various products, making them a necessary tool in many industries.