How Does a Water Pumping Station Work
Water is a vital resource that we use every day; from drinking to cooking, cleaning, and even watering our plants. However, have you ever wondered how the water gets to your home or office? In most cities and towns, water is supplied through water pumping stations. These buildings play a vital role in ensuring that we have a steady supply of clean water. But how do they work? What happens inside them? In this blog post, we will take a closer look at how water pumping stations work and the processes involved in delivering clean drinking water to our taps.
1. Introduction to Water Pumping Stations
Hi there! In this blog post, I'd like to introduce you to water pumping stations. These machines are incredibly important in our society because they transport water from one location to another without the need for human or animal intervention. In the previous sections, we discussed the mechanics of pumping stations and their various uses, including in canals, wastewater treatment plants, and water distribution systems. Now, I want to give you a bit of background on these machines, so you can better understand their role in our daily lives. In short, water pumping stations are designed to move water efficiently and sustainably, whether it's from a nearby river or well or to distribute water throughout a city or town. Their ability to operate seamlessly without human interaction makes them a crucial component of our infrastructure. As you read on, you'll learn more about the importance of these machines and the many ways they are used in both industrial and municipal settings. So let's dive in!
2. Purpose of Water Pumping Stations
As I've previously mentioned, water pumping stations are facilities that contain pumps and equipment for efficiently transporting water from one site to another. But what is the purpose of these stations? Well, one of the primary purposes is to ensure reliable access to clean and safe drinking water. Water pumping stations are strategically located throughout a community's water distribution system to ensure that water can be efficiently transported from the source, such as a lake, to homes and businesses. Additionally, pumping stations are critical in helping to manage water levels in canals and other waterways, preventing flooding and ensuring a consistent flow of water for things like irrigation and navigation. And in the case of sewage and wastewater collection, pumps within a pumping station are used to move sewage to a treatment facility, preventing contamination of water sources and protecting public health. Overall, the purpose of water pumping stations is to help ensure the efficient and reliable movement of clean water and the safe management of wastewater.
3. The Mechanics of Water Pumping Stations
When it comes to the mechanics of water pumping stations, there are a few key components to consider. First, the station needs a water intake structure to suction pipes for the pumps. From there, the pumps and motor work together to generate the necessary pressure to move the water to its destination. The gear system between the motor and pumps is what drives this process. This technology is essential for water management across various applications, from sewage and wastewater collection to water distribution systems. We can't underestimate the importance of pumping stations in efficiently managing our water resources. These stations are designed to meet the needs and projected demands of a community, and ultimately help ensure we have access to clean and safe water. After all, water is one of our most vital resources, so it's crucial that we understand how we can best manage it.
4. The Use of Water Pumping Stations in Canals and Waterways
As we learned earlier, water pumping stations are essential for transporting water from one location to another. In the case of canals and waterways, pumping stations play a crucial role in maintaining the water levels necessary for navigation and irrigation. Without these stations, access to water would be limited, and water-dependent industries would suffer. Pumping stations work by drawing water from the source, such as a reservoir or river, and elevating it through a system of pumps and pipelines to the desired location. In the case of canals, pumping stations ensure that water levels are maintained, allowing for boats to travel safely and efficiently. Additionally, these stations are necessary for providing water to agricultural lands and ensuring the health of aquatic ecosystems. Overall, water pumping stations are an essential component of modern water management systems and have a wide range of applications in various industries.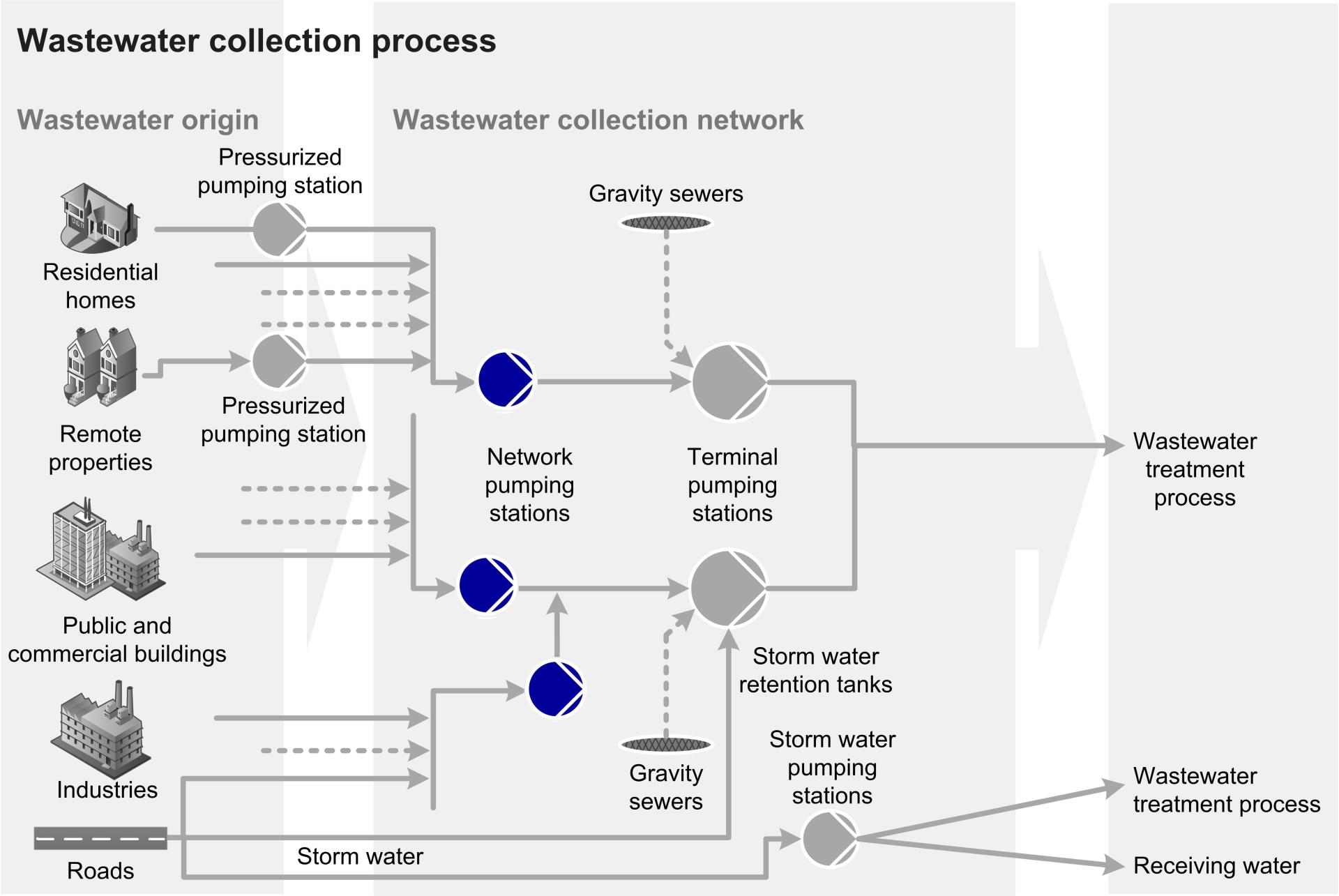 5. The Role of Pump Stations in Sewage and Wastewater Collection
As a wastewater treatment plant operator, I know firsthand how crucial pump stations are in collecting and conveying sewage and wastewater from residential and commercial areas. Pump stations are typically designed to handle wastewater fed from underground gravity pipelines and stored in a sealed wet well. These facilities, also known as lift stations, are fitted with pumps and equipment that convey the wastewater to a higher elevation. Once the collected sewage or wastewater reaches a predetermined level, the pump station automatically kicks into gear, pumping the sewage to a downstream treatment facility. In-plant pump stations are used to pump flow from areas too low to drain by gravity into nearby sewer lines. Compared to expensive and cumbersome gravity systems, the use of pump stations in sewage and wastewater collection offers convenience, cuts construction costs and makes it possible for us to treat and clean water more efficiently.
6. The Function of Pumping Stations in Water Distribution Systems
As we've discussed, water pumping stations play an essential role in many aspects of water management. One of the primary functions of these stations is to supply water to distribution systems that transport water to homes, businesses, and other locations. These mains pumping stations are typically located near treatment facilities or potable water sources, and the devices within the station are capable of supplying water to canals, circulating water in treatment systems, and draining water from low areas. In short, pumping stations ensure that people have access to clean and reliable water sources. Without these essential systems in place, we would face a host of health and safety issues. Pump stations are critical components of our water infrastructure system, and ensuring their efficiency is essential to the overall functioning of our communities.
7. The Importance of Pumping Stations for Efficient Water Management
As I learned earlier, a water pumping station is a critical component in transporting water from one site to another. However, these stations not only function to transport water efficiently, but they also aid in managing water effectively. Without pumping stations, it would be challenging to provide consistent water supply for both domestic and industrial usage. Moreover, it's essential to control and balance water supply to prevent water waste, ensure reliability in the water distribution network, and reduce the risk of leakages. In other words, pumping stations are indispensable in maintaining water resources' sustainability and ensuring stable water management for future generations.
8. The Process of Moving Sewage with Pumping Stations
One of the important functions of pumping stations is to move sewage and wastewater to higher elevations for proper treatment and disposal. The process starts with the collection of waste in a wet well, which is the underground chamber where the pumps are located. Once the waste reaches a certain level, the pumps are activated, and the waste is pumped out of the wet well and into the sewer system at high pressure. Natural gravity takes over from there, allowing the sewage to flow through the system by itself. It's essential for a pumping station to be located at the right elevation and constructed in such a way as to prevent flooding or other environmental hazards. At the heart of it all is the engineering and mechanical systems that keep these sewage pumping stations functioning efficiently and effectively. It's fascinating to see how complex infrastructure, like water and sewage systems, operate in everyday life.
9. Types of Pumping Stations and Their Uses
When it comes to pumping stations, there are various types, each suited to specific functions. For example, there are horizontal and vertical pumps, each designed to cater to different lifting requirements. In general, lift stations are used in gravity sewer systems, where the depth of the pipes requires a little extra help to transport wastewater. Meanwhile, sewage pumping stations can handle high flows and excess waste by moving it to higher elevations, ensuring efficient disposal. When it comes to water distribution networks, centrifugal pumps are the most commonly used type of pump, thanks to their versatility and cost-effectiveness. The other uses of pumping stations are varied and often found in industrial and municipal settings, where they are used for various applications such as irrigation, water cooling systems, and fire protection systems. Regardless of the type, these stations serve as crucial components in maintaining efficient and reliable water management systems.
10. The Other Applications of Pumping Stations in Industrial and Municipal Settings
As we previously discussed, water pumping stations have a variety of uses in different settings. In addition to their roles in sewage and wastewater collection and water distribution systems, pumping stations have many other applications in both industrial and municipal settings. Housing estates, hospitals, commercial sites, schools, and other public and private facilities all rely on pumping stations to ensure a constant supply of water. Industrial clients may also need pumping stations to handle low flows of dirty water or to keep their machinery and equipment cool. As a designer and engineer, I understand the importance of matching pump capacity, type, and configuration with the specific needs of the facility. By creating cost-effective pumping stations, we can help ensure reliable and efficient water management across a range of industries and applications.