Water, a vital component for the survival of all living beings, is unfortunately not always readily available in its purest form. As the global demand for fresh and clean water continues to rise, the need for efficient and advanced water treatment methods becomes imperative.
Brackish water reverse osmosis (BWRO) systems have emerged as one of the leading solutions to this increasingly pressing predicament. In this detailed guide, we will delve into the benefits and installation process of a state-of-the-art 2-stage brackish water reverse osmosis system, helping you unlock the full potential of this technology to solve your water treatment needs.
Brackish water, typically characterized by its elevated salinity levels, is commonly found in estuaries or areas where freshwater and seawater mix. Such water is not only unsuitable for human consumption but can also wreak havoc on industrial processes and agricultural activities. Enter the BWRO systems, designed to eliminate impurities, dissolved salts, and contamination resulting in potable water that is both safe and reliable.
A 2-stage BWRO system essentially doubles the transformative capabilities of the equipment, further enhancing the quality of the treated water. Whether you are a residential homeowner, commercial establishment, or industrial facility, investing in a new 2-stage BWRO system installation can significantly improve your water quality, reduce long-term costs, and contribute
1. Commercial Brackish Water Reverse Osmosis (BWRO) Systems
Commercial Brackish Water Reverse Osmosis (BWRO) systems are designed to treat water with a high level of salinity, making it more challenging to purify than other water sources. These systems are essential for providing clean, potable water for drinking and other commercial applications where ultra-purified water is necessary. Pure Aqua Inc. has become a leading manufacturer of these systems by offering a full line of standard and customizable BWRO systems, all of which are engineered using advanced 3D computer modeling and process design software for accurate and customized solutions.
The success of brackish reverse osmosis systems is dependent on the RO feedwater quality, which is determined by the consistency of the water body and the effectiveness of the pretreatment process. The RO-300 series, a customizable and high-capacity version of Pure Aqua's standard RO systems, features vertical designs and heavy-duty materials like stainless steel piping to accommodate higher water capacities. These systems are ideal for treating tap and brackish water for drinking and other commercial uses.
Brackish reverse osmosis systems work by pressurizing water to pass through a finely pored semi-permeable membrane and filter, effectively removing contaminants such as salts, bacteria, and other particles to produce purified water. These systems are equipped to purify water from various sources, including rivers, lakes, wells, and the sea. Depending on the intended use of the water, post-treatment processes may be applied.
2. Customizable & High Capacity RO Systems
Customizable and high-capacity Reverse Osmosis (RO) systems are designed to cater to the specific requirements of individual clients, providing them with the best possible water quality for their unique applications. These systems are built with a wide range of capacities and turbidities to ensure efficient and reliable water purification. Progressive Water Treatment, for instance, offers Brackish Water Reverse Osmosis systems that are capable of handling a variety of water impurities, from salts to other contaminants, using RO membranes from reputable manufacturers such as Dow Filmtec.
Each custom-built system is equipped with high-quality components, designed to perform efficiently for years to come. The systems are tailor-made to the client's raw water source and desired final water quality, ensuring that the systems meet the specific needs of each customer. With capacities ranging from 1 Gallon Per Minute (GPM) to 800 GPM on a single skid, these systems offer a wide range of options for clients to choose from.
Progressive Water Treatment's SD Series reverse osmosis systems, for example, are designed to deliver outstanding water quality for various applications at a competitive price. The skids are powder coated for excellent corrosion resistance, and the systems feature low pump suction pressure protection, ensuring that the major components with high replacement costs are safeguarded. Moreover, these customizable and high-capacity RO systems offer a variety of upgrade options and brand choices, such as soft start or variable frequency drive (VFD) for pump control.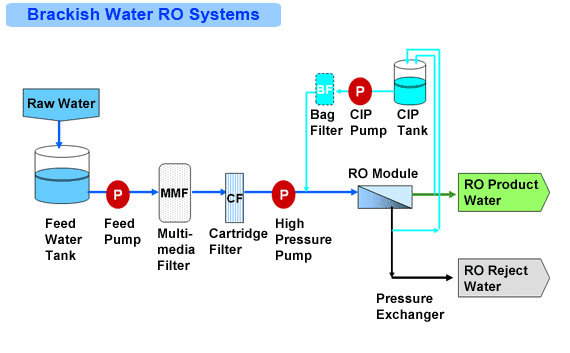 3. Pre-Treatment Equipment for Brackish Water
Brackish water reverse osmosis (BWRO) systems require effective pre-treatment equipment to ensure the consistent quality of RO feedwater. Pre-treatment systems depend on the quality of the water being treated and the intended application. Understanding these factors is essential for engineers to recommend the most suitable pre and post-treatment equipment for the system.
Some common components of pre-treatment equipment for BWRO systems include multimedia and activated carbon filters, water softeners, and UV sterilizers. These components work together to remove suspended solids, organic contaminants, and bacteria from the feed water, allowing the RO system to function efficiently and prevent membrane fouling. Additionally, a chemical dosing system and/or a cleaning skid may be incorporated into the system to maintain optimal performance of the RO membranes and extend their lifespan.
Acid dosing systems, such as the LMI Brand-USA, effectively prevent calcium carbonate scale formation by lowering the feed water pH through the injection of an acid. This process converts bicarbonate ions into carbon dioxide, ensuring smooth operation of the RO system. The right metering pump allows for precise control over the amount of acid being injected into the water, providing optimal results.
In conclusion, pre-treatment equipment plays a crucial role in the efficient and effective operation of brackish water reverse osmosis systems. By carefully considering the quality of the feed water and the intended application of the purified water, engineers can design and implement appropriate pre-treatment solutions to ensure the longevity and performance.
4. Purification from Rivers, Wells, Sea, & Lakes
Brackish water reverse osmosis (BWRO) systems are designed to purify water sourced from various natural resources such as rivers, wells, seas, and lakes. These systems employ advanced technologies and heavy-duty materials to ensure high-quality purified water necessary for both domestic and commercial applications. Brackish water, by nature, is more challenging to treat due to frequent fluctuations in salinity levels, which can place great stress on the treatment process and increase energy consumption.
A key component for the successful functioning of a BWRO system is the consistent quality of the feed water. This quality can be achieved through an effective pretreatment process, which is crucial for optimizing the performance of the reverse osmosis system. Pretreatment components may include multimedia and activated carbon filters, water softeners, UV sterilizers, and chemical dosing systems, all of which play a role in preparing the water for the main purification stage.
In the core purification process, high-pressure pumps are used to force water through a semi-permeable membrane, which filters out nearly 99% of contaminants, including salts, bacteria, and other particles. This efficient filtering provides ultra-pure water, while the rejected water containing concentrated contaminants is separated and discharged. Depending on the specific application and intended purpose of the purified water, post-treatment may also be deployed to enhance water quality further.
In conclusion, brackish water reverse osmosis systems offer an innovative and reliable solution for water purification from a variety of sources.
5. High-Quality Materials for RO-300 Series
Pure Aqua engineers have put their expertise to work in designing the RO-300 Series, which boasts high-quality materials and an impressive capacity for purifying water. Compared to the RO-200 Series, the RO-300 Series is displayed vertically and built with heavy-duty materials to withstand the higher capacity that it produces. For instance, stainless steel piping is utilized in the RO-300 brackish reverse osmosis system, while the RO-200 uses standard tubing. In addition, the high-pressure pump is made of 316L stainless steel, ensuring its durability and longevity.
Each pressure vessel in the RO-300 Series is equipped with multiple membranes, and the vessels are installed horizontally. This design contributes to the production of ultra-high-quality water for specific applications and allows for customization depending on the application and source of the water. Pure Aqua Inc. takes pride in their ability to offer the most appropriate solution for any water treatment need, guaranteeing customer satisfaction with their brackish reverse osmosis systems.
RO-300 systems are capable of handling feed water with a TDS range of 1000 ppm to 5000 ppm, making them suitable for various water sources, such as rivers, lakes, wells, and the sea. With high-pressure pumps, water is pressurized to pass through a finely pored semi-permeable membrane, filtering out around 99% of contaminants, including salts, bacteria, and other particles. This process leaves the water in its purest form.
6. Components of Pre/Post-Treatment
The components of pre- and post-treatment for brackish water reverse osmosis (BWRO) systems play a significant role in ensuring the efficiency and durability of the treatment process. Prior to the reverse osmosis process, pre-treatment helps to remove impurities that can harm the RO system or obstruct the filtration process. Post-treatment, on the other hand, is employed to further refine the quality of purified water based on its intended application.
Pre-treatment components typically include multimedia and activated carbon filters, which help to remove solid impurities, chlorine, and other organic contaminants from the water source. In some cases, water softeners are also utilized to reduce the hardness of incoming feed water and protect the RO membranes from scaling. Additionally, chemical dosing systems may be integrated for pH adjustment, disinfection, or the prevention of scaling and fouling. Ultraviolet (UV) sterilizers are also used in pre-treatment stages to eliminate the presence of bacteria, viruses, and other microorganisms in the water.
Following the reverse osmosis process, the treated water may undergo further treatment depending on its intended application. Post-treatment procedures may include UV sterilization, deionization, and/or re-mineralization to enhance the quality and safety of the end product. In some situations, additional filtration and/or polishing may also be employed to ensure compliance with specific standards for water quality.
In conclusion, the components of pre- and post-treatment for BWRO systems are essential.
7. Maximum Performance & Reliability
Achieving maximum performance and reliability in a brackish water reverse osmosis (BWRO) system is vital for water treatment plants seeking efficient and dependable water purification. By incorporating advanced design and engineering practices, a well-constructed BWRO system can optimize its treatment capacity while ensuring an extended operational life. Top-of-the-line components, as well as regular maintenance and monitoring, can help ensure the longevity of these systems.
One essential aspect of maintaining the highest performance and reliability in a BWRO system is the selection of appropriate membranes. High-quality membranes, specifically designed for brackish water treatment, contribute to a robust and effective water purification process. Moreover, proper pre-treatment of the feed water can help minimize scaling and fouling of the reverse osmosis membranes. This in turn prolongs the service life of the membranes and reduces downtime due to maintenance and replacement.
Additionally, incorporating energy recovery devices (ERDs) in the BWRO system can not only help conserve energy but also enhance system performance by reducing pressure fluctuations and ensuring consistent flow rates. ERDs improve the system's overall operational efficiency, leading to cost and energy savings.
Furthermore, regular system monitoring plays a crucial role in maintaining optimal performance and reliability. This includes constant tracking of the water quality parameters, such as pH, temperature, and total dissolved solids (TDS), as well as periodically monitoring the membrane performance and addressing any potential issues.
Finally, a well-trained and knowledgeable operations and maintenance team is indispensable for achieving maximum performance and reliability.
8. Quality Components & Hydranautics Membranes
The Aquacorp Packaged Brackish Water Reverse Osmosis (BWRO) Systems are engineered with high-quality components, ensuring optimal performance and reliability. One of the key features of these systems is the incorporation of Hydranautics membrane elements, which are regarded for their advanced technology and superior filtration capabilities. These membranes are specifically designed to treat brackish water, making them an ideal choice for various brackish water treatment applications.
The use of Hydranautics membranes, along with other top-notch components such as 300psi fibreglass housings, PVC cluster housings, and sediment cartridges for pre-filtration, allows the Aquacorp BWRO systems to deliver efficient water purification. Additionally, these systems are equipped with flow meters, pressure gauges, and an Australian approved electrical box for seamless monitoring and control of the entire water treatment process.
Furthermore, the Aquacorp BWRO systems are assembled in Australia and come with a sturdy stainless steel frame, ensuring long-lasting durability. These systems also feature a vertical multi-stage centrifugal 304 stainless steel pump and PVC sch 80 pressure pipe for reliable water transportation. With such impressive quality components, it's no wonder these systems are the go-to choice for many brackish water treatment applications.
In conclusion, the Aquacorp Packaged Brackish Water Reverse Osmosis (BWRO) Systems boast a perfect combination of quality components and cutting-edge Hydranautics membranes, delivering exceptional performance.
9. Suitable for Various BWRO Applications
Brackish water reverse osmosis (BWRO) systems are highly versatile and can cater to a wide range of applications, ensuring the delivery of high-quality water. These systems are suitable for treating tap, brackish, and even seawater, making them ideal for different industries and requirements. With the advanced technology and efficient pre-treatment processes incorporated, BWRO systems offer consistent water quality, irrespective of fluctuations in the feed water's salinity levels.
One of the key factors that contribute to the success of a BWRO system is its customization capabilities. This flexibility allows the system to adapt to the specific needs of an application and the source water being used. Notably, Pure Aqua Inc.'s RO-300 series offers high-capacity brackish water reverse osmosis systems designed using advanced 3D computer modeling and process design software. These systems are capable of purifying higher volumes of water and are constructed using heavy-duty materials, such as stainless steel piping and 316L stainless steel high-pressure pumps, to withstand the rigors of high-capacity operations.
Moreover, BWRO systems come with necessary pre-treatment equipment to ensure the feed water quality is up to the mark, and they can eliminate around 99% of contaminants such as salts, bacteria, and other particles. This results in ultra-purified water that can be utilized for various applications, including drinking water supply and other commercial uses.
10. Dependent on Feed Water Quality & Pre-Treatment Needs
A brackish water reverse osmosis (BWRO) system is designed to remove salts, minerals, and other contaminants from the water sources with high salinity levels. In many cases, feed water quality is a crucial factor that determines the efficiency and performance of a BWRO system. Accurate assessment of feed water quality is essential to design the most suitable BWRO system that will effectively handle the various contaminants present in it.
Each water source has its specific set of impurities that need to be treated before entering the BWRO system. Pre-treatment equipment and processes are customized according to the unique composition of a specific water source. Therefore, it is essential to analyze feed water quality to determine the appropriate pre-treatment processes needed to optimize the overall BWRO system performance.
Pre-treatment for BWRO systems may involve several processes, such as sediment filtration, water softening, pH adjustment, disinfection, and antiscalant addition. These processes are essential in preventing fouling, scaling, and other potential issues that could hinder the proper functioning of the BWRO system. A carefully designed and implemented pre-treatment process ensures that the feed water entering the BWRO system is of the required quality, enabling the system to operate efficiently and produce the desired output.
In conclusion, feed water quality and pre-treatment needs are interdependent factors that play a vital role in the overall performance of a brackish water reverse osmosis system. By thoroughly analyzing the feed water quality and implementing effective pre-treatment.
ETCH2O brackish water reverse osmosis Solutions
ETCH2O is a leading provider of brackish water reverse osmosis (BWRO) solutions, designed to deliver purified water for a variety of applications. With years of experience in the industry, ETCH2O has developed efficient and cost-effective systems to meet the unique specifications and requirements of its customers. The company produces both industrial and commercial systems, as well as providing maintenance support and pre-engineered systems that guarantee high-quality results and minimal lifecycle costs.
One of the key technologies used by ETCH2O in its brackish water treatment solutions is reverse osmosis (RO) technology. Also known as hyperfiltration, RO is employed to remove salts, contaminants, and other impurities from water, ensuring that it is safe and clean for a range of purposes. ETCH2O offers brackish water RO systems with varying capacities and TDS levels, setting the standard in the water treatment industry. Their expert team is always available to address any questions or concerns and to provide guidance throughout the process.
Each brackish water RO system developed by ETCH2O is designed to be easily operated, with all membranes, pumps, controls, filters, manuals, and piping installed and ready to go. These systems are used globally, particularly in regions where clean potable water is scarce, providing a crucial source of drinking water, water for bottling and ice making, and more. No matter your water application needs, ETCH2O can provide tailor-made solutions.